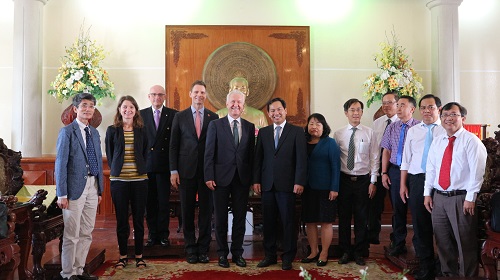 Chairman of Can Tho city People's Committee Le Quang Manh and Swiss Ambassador Ivo Sieber.
At the meeting, Mr. Le Quang Manh, Chairman of the People's Committee of Can Tho city, affirms recognition of the importance of cooperative relations between Switzerland and Vietnam in general, Swiss localities, and Can Tho city in particular. Switzerland, in collaboration with the World Bank in Vietnam, is supporting the city of Can Tho in strengthening its resilience to climate change through the project "Developing Can Tho city and strengthening adaptation capacity". Nearly 40 percent of the city's population with approximately 420,000 people in the core area are expected to directly benefit from the project and 2,675 hectares of land will be free from flooding.
On this occasion, Chairman Le Quang Manh wishes to receive support from Switzerland and the World Bank in climate change response, urban development, tourism-trade-service development, and opportunity to cooperate with Swiss companies. Can Tho city leader will create favorable conditions for Swiss companies when working and investing in Can Tho city.
Speaking at the meeting, Ambassador Ivo Sieber highly appreciated the development potential and important role of Can Tho as a big and leading city in the transformation process of the Mekong Delta. Moreover, the successful sustainable urbanization of Can Tho city will be a good example for neighboring provinces, especially in the Mekong Delta region. The close coordination of management at different levels in planning and managing measures to renovate urban areas is an important factor to attract investment from the private sector.
Mr. Ivo Sieber said that Can Tho is one of many cities within the framework of Swiss cooperation with Vietnam. For that reason, Switzerland is supporting Can Tho city in many areas such as flood prevention and early warning, urban development and urban resilience enhancement, sustainable tourism, public finance management, business registration, and agricultural reform. Moreover, the Swiss Government is committed to assisting the economic transition, including the development of green cities with climate resilience and adaptation, in the Mekong Delta. Through the EU-Vietnam Free Trade Agreement, the Ambassador hoped that Switzerland would further promote trade with Vietnam, and many foreign companies would see Vietnam and Can Tho city as a destination for potential investment.
In addition to meeting with Can Tho city leaders, the Swiss delegation also visited several Swiss-funded climate change prevention projects in the city.
Hoang Dat
Hoang Dat