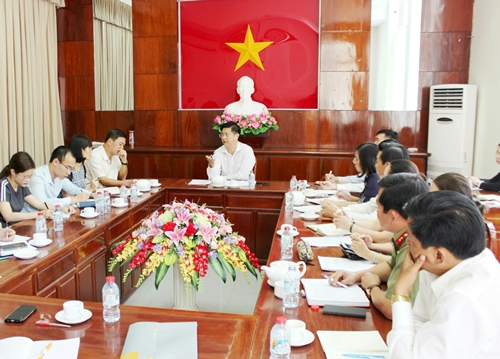 The scene of the working session
According to Mr. Dung, in the framework of the ASEM, the Ministry of Foreign Affairs in collaboration with the Ministry of Natural Resources and Environment (MONRE), the Ministry of Planning and Investment (MPI) and other ASEM co-founders to prepare for the host of "The ASEM conference on climate change response toward sustainable development" in Can Tho city in 2 days, June 19th and 20th of 2018.
This is the most important inter- regional event in the framework of ASEM hosted by Vietnam in 2018. At present, there are other co- sponsors, including Australia, Belgium, Denmark, Finland, Myanmar and the Netherlands. The conference is the first initiative on climate change response toward sustainable development in the third decade of cooperation of the ASEM. Through this event, ministries, departments and localities will have opportunity to exchange experiences, promote co-operation and take advantage of the support of 53 Asian- European partners contributing the effectiveness in the implementation of the Government's Resolution on sustainable development adaptable with climate change in the Mekong Delta.
In the working session, the delegation of the Ministry of Foreign Affairs and the leaders of the city unified to co-ordinate in preparing the conference, including facilities, transport, field sites on climate change adaptation in localities, reception, logistics, medical services, security, and so on.
According to Ms. Nguyen Phuong Anh, Assistant Director, Multilateral Economic Cooperation Department, Deputy Prime Minister Pham Binh Minh is expected to attend and have a speak at the conference. In addition, there will be about 180 participants who are representatives of Ministries, Departments, Research Institutes, Departments of Natural Resources and Environment (DONRE), Departments of Planning and Investment (DPI) of 13 provinces in the Mekong Delta and delegates of 53 ASEM member nations and other relevant international organizations. Many outstanding activities will be held at the conference, such as: opening and closing ceremonies, four plenary sessions, parties, exhibitions and field trips.
Kim Xuyen. Translated by Minh Loan