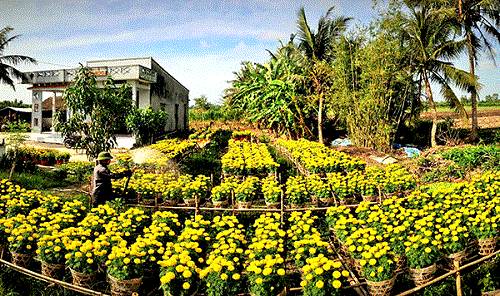 The theme of traditional handicraft villages always inspires artistic photographers greatly. Photo: Flower Village on Tet Holiday.
Commenting on the theme "traditional craft" of this exhibition, artistic photographers say that they are impressed by skillful hands and simple souls of traditional craft villagers throughout the country. "Traditional crafts" have created a distinct and interesting cultural identity in Vietnam.
This exhibition features 90 art works of 39 artistic photographers from the three clubs. They love leisurely traveling, exploring and experiencing insights of everything by themselves, which is clearly shown in their photos. Those who love Can Tho City feel moved as watching "Ba Bo Flower Village in spring" by Mr. Phan Tran Vu. This is a large field full of colorful flowers in middle of the city, where visitors find it hard to leave for another place. The photo of artist Muoi Xiem preparing Vietnamese rice pancakes by Tran Ngoc Thanh honors Vietnamese cuisine. The very moment when visitors try making Vietnamese rice noodle is captured in Thao Mien's photo, which helps send a beautiful message of our culture.
Artistic photographers from Chau Doc show lively images of the wonderful countryside with high mountains and long rivers. They are well depicted in endless layers full of Phu Gia rice papers in the bright sunshine, in Chau Doc floating village on the glittering Mekong River, in Phu Binh broom making village in full natural color, or in palm sugar production, etc. The artistic photographers from District I, Ho Chi Minh City are by chance "fascinated" by the traditional weaving of ethnic minorities in all parts of the country. Their common interest can be seen in "Quay tơ thì giữ mối tơ" (Keeping the thread of silk in spinning) by Dang Trung Thanh, "Dệt thổ cẩm" (Brocade weaving) by Tang Quang Trong, "Hoa văn thổ cẩm" (Brocade pattern) by Hang Bich Nhung, etc.
Traditional crafts are usual topics in arts and literature, but the photos in this exhibition present the authors' creativeness, excellent art talent and experience so as to capture invaluable moments. According to Mr. To Hoang Vu, Chairman of the Can Tho City Artistic Photographers' Association, "These works depict accurately the vivid life full of colors and from diverse aspects, reflecting daily changes in our homeland." For many years, the literary and artistic associations in the Mekong Delta region, including Can Tho, regularly organize fieldtrips for their members in different regions. Those trips inspire the photographers' artistic feelings so much that they have depicted the very beauty of life and the craft villages with talented locals in their photos. "Traditional craft" is one of the "sweet fruits" of such discovery trips.
Photo exhibition "Traditional Crafts" at Can Tho City Union of Literature - Arts (No. 170, Ly Tu Trong Street, Ninh Kieu District) ends on February 4th, 2019 (lunar December 30th).
Source: Can Tho Newspaper - Translated by Diep Truong