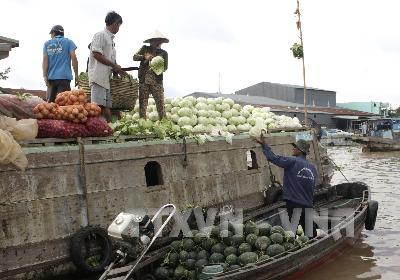 Trading agricultural products, food at Cai Rang floating market (Photo: Nhat Anh)
However, Can Tho has not had a tourism development equivalent to its potential. In the view of tourism development to 2030, to enhance competitiveness and build a private brand in the general tourism landscape of Mekong Delta, Can Tho focuses on priority investment to develop the local tourism product groups, creating a distinctive point for Can Tho tourism as well as increasing the tourism products of the whole region.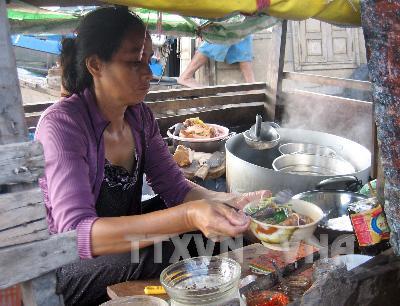 Eating counter serving visitors at floating market
At the scientific conference "Can Tho- Tourism destination of the Mekong Delta", organized by Can Tho College recently, Dr. Nguyen Quoc Nghi (Can Tho University), said that we should have priority in developing groups of tourism product related to experience the values of water, based on the interlacing canal systems and the cultural characteristics of the community along the two riversides. Specifically, Can Tho has two famous floating markets, Cai Rang and Phong Dien. Most visitors, especially international ones, visit these two markets. Visitors not only experience the feeling of floating when moving on the boat, but also feel the culture of trading on the river with the form of hanging product sample on the top of the boat to sell, selling by estimating without measuring quantity, selling a dozen with 12 or 13 fruits, ect. Besides, the visitors enjoy traditional cuisine cooked with special tastes at the market, such as vermicelli and sour crab soup, pig's tripe soup and many types of sweet soup.
Regarding to the development orientation of this tourism product group, Mr. Le Van Tam, Permanent Vice Chairman of Can Tho People's Committee, said that the city has been planning a sustainable development. Accordingly, the project "Conservation and development Cai Rang floating market" has been approved. The project aims to plan and invest the infrastructure, protect the landscape and environment to serve tourists and adjust the activities of local people in the orientation of doing business together with tourism, exploiting together with preserving natural resources.
In addition, the canal systems in the city are dredged and cleared to be used for tourism with tours to the city by boat. The city has set out policies to call organizations and individuals for investment of Sand Beach site (known as the sea of Can Tho) for tourism. Currently, there are beach cafes, kayak racing, canoe racing, ect.
Master Nguyen Thi My Duyen (An Giang University) suggested that Can Tho should plan tourism product groups to experience the life of local community. These product groups are quite rich with activities to learn and experience the traditional life of the community in the riverside villages, islets, gardens, ect. These locations should be planned in detail into community tourism diagram of Can Tho city, including garden houses in Phong Dien district, islets along Hau River. Tourists attending these groups will mix with nature and daily routines of the local people.
One of the most outstanding of these groups is Con Son tourism model. This destination still keeps the simple life of the southern countryside. Local cultural values and local human resources are fully used. Each garden house has a distinctive feature, linking to create a tourism community with different products.
Mr. Vo Van Tho, Head of Con Son Management Board, said that Con Son has an area of about 67 hectares, with 79 households with 15 of them involved in tourism. Coming to Con Son, visitors will visit the orchards, experience as a farmer, make fold cakes, listen to folk songs, ect. In 2016, Con Son officially operated tourism; the turnover has increased from VND 30 million per month to VND 200 million per month in less than 2 years, bringing a stable income for the community.
Dr. Nguyen Quoc Nghi mentioned other group of tourism products, MICE (Meeting – Incentive – Conference – Event ). This is a form of tourism combining with meetings, awards, events and exhibitions. This product group is built on the advantages of location, role of the central urban area of the region as well as the infrastructure, tourism technical material facilities of Can Tho.
Ms. Vo Thi Hong Anh, Vice Chairwoman of Can Tho People's Committee, said that in recent years, the city has mobilized many domestic and foreign resources to invest in developing the city's infrastructure to promote tourism development. Many restaurants and luxury hotels have been inaugurated, such as Muong Thanh, Vincom, Ninh Kieu 2, ect. Also, many bridges have been implemented, such as Ninh Kieu pedestrian only bridge, Quang Trung 2 bridge, Tran Hoang Na bridge, ect.
According to Can Tho Department of Culture, Sports and Tourism, in 2016 Can Tho welcomed 1.755.050 visitors, including 258.400 international ones, up to 10 percent in comparison with that of 2015. The turnover from tourism activities in 2016 was VND 1.826.2 billion, of which VND 342.5 billion is from international tourists, up to 5 percent in comparison with that of 2015.
Source: VNA - Translated by Minh Loan