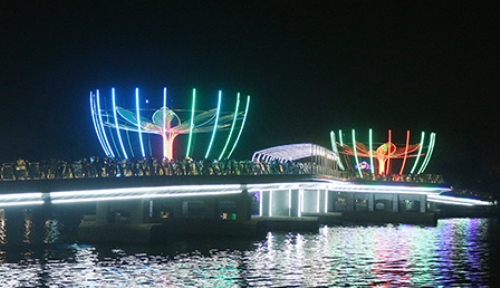 Pedestrian Bridge twinkling in the night light, attracting thousands of visitors.
* Upgrading the Quality of Tourism Products
In the Adjusted Master Plan of Can Tho Tourism Development 2020, oriented to 2030, Can Tho Tourism has been identified to have particular strength in river tourism and potentials of a river urban residence. In the past two years, many works have been built to create distinctive features for the city. Typically, Can Tho Pedestrian Bridge from Ninh Kieu Wharf to Cai Khe Islet has been put into operation for almost two months, yet attracted many visitors. To attract more tourists, the city tourism plans to add more recreational activities such as street performances, Tai Tu Music performances, traditional night market of the region on waters ... Along the road from the Pedestrian Bridge to Can Tho Beach and to the former ferry station (Tran Phu Street), more trees and flowers are going to be planted to create more green space for the city. On the Pedestrian Bridge, groups of young people perform arts with balloons, which helps live up the evening activities here.
In addition, floating restaurant is an attractive tourism product in the evening. Ms. Ngoc Ha, a visitor from Ho Chi Minh City, says, "On the floating restaurant, I can enjoy the poetic scene of the city in the evening. We have been queuing for a long time before boarding the floating restaurant. From here, the pedestrian bridge looks so beautiful!"At present, each of the two floating restaurants (Can Tho and Ninh Kieu) can serve 500-600 guests in one tour.
Another interesting site that you cannot miss when visiting Can Tho City is Cai Rang Floating Market. Recently, Cai Rang Floating Market has been recognized as the national intangible heritage by the Ministry of Culture, Sports and Tourism. Cai Rang People's Committee has proposed "The Project for Preserving and Developing Cai Rang Floating Market." The market is proposed to offer more services and activities for appealing more visitors. Mr. Le Minh Son, Vice Director of Can Tho Department of Culture, Sports and Tourism, states, "There will be an observation station, floating restaurants, souvenir shops, and other unique activities in the market."
Community tourism together with cultural-historical sites has strong development in Can Tho, especially in Binh Thuy District. There are two community tourism villages (Son Islet and Long Tuyen Ward) in Binh Thuy District. Long Tuyen Ward takes advantages of its trade villages of planting flowers, organic vegetables, and making traditional toys. Son Islet has the typical geographical features of river ecology: trees laden with fruits, the village of rafts, the garden of storks. Ms. Le Thi Be Bay, Vice Manager of Binh Thuy District Culture and Information Office, states, "We have been setting up more accommodation for those visitors wishing to stay here for some days. Coming to Binh Thuy District, you can have exciting experiences with river tours together with visiting cultural and historical sites in the community."
According to Mr. Nguyen Hoang Son, Director of the Center for Developing Can Tho Tourism, the city has supported the development of featured tourism products founded on the local advantages in the various districts. For example, Ninh Kieu has developed its riverside city and MICE tourism (conferences, workshops); Binh Thuy has focused on tours to cultural-historical sites in the community; Cai Rang has upgraded its river tours, homestay; Phong Dien has cultivated its river tours in the countryside…"
* Organizing Featured Tourism Events
Can Tho City is active in making its traditional holidays become the highlighted events of culture, sports and cuisine. Mr. Le Minh Son, Vice Director of Can Tho Department of Culture, Sports and Tourism, says, "The festival of western traditional cakes is one of three important events which Can Tho City has hosted in response to Visit Vietnam Year 2016 - Phu Quoc – Mekong River Delta. Besides, many districts in the city have chosen their typical events to help develop the local tourism like Phong Dien River Tourism, Tan Loc Fruit Festical (Thot Not)…All of these events have gradually become typical in Can Tho City, which has contributed to attracting more visitors to this place."
This year, the western traditional cake festival had the theme "Western Specialties towards Integration" from September 15th to September 19th in Cai Khe Islet, Ninh Kieu District. The festival had 150 kiosks with more than 200 types of traditional cakes and specialties inside and outside the country. There were the food kiosks from Japan, Korea, India…There were also performances of artisans making cakes, Tai Tu music, traditional musical instruments of Vietnam and other Asian countries, calligraphy as well as tourism promotions and contests of making cakes, calligraphy…
Phong Dien River Tourism Festival (September 27th), and Tan Loc Fruit Festival (Lunar May 5th) have enlightened Can Tho tourism. In addition, other noticeable events include Binh Thuy Temple's Ky Yen Ceremony (May 18th-20th) Cai Rang Floating Market Festival (July 9th), Ok Om Bok at Pothi Somrôn Pagoda (bordering O Mon, Co Do and Thoi Lai, on lunar October 15th), the first traditional boat race (Vinh Thanh District)… Ms. Le Thi Be Bay, vice manager of Binh Thuy District's Culture and Information Office, announces, "Since the success of Binh Thuy Temple's Ky Yen Ceremony in 2015, the district has tried to add 10 more interesting activities in the event such as orchid presentation contest, traditional plays performances, boat races… The usual contest of delicious cakes will be turned into the culinary contest with participants from other locations." Mr. Dang Thanh Tra, Vice Manager of Cai Rang District's Culture and Information Office, says, "This year is the first time for Cai Rang District to organize Cai Rang Floating Market Festival (July 9th). We are organizing various featured activities to reflect typical western river lifestyle."
* * *
Creating Can Tho featured tourism products and events has been done recently such as the pedestrian bridge, Son Islet community tours, Western traditional cake festival, Phong Dien water tourism festival, Tan Loc fruit festival… Hopefully, in this strong orientation, Can Tho will have more distinctive tourism products and festivals to appeal more visitors to the city.
Source: Can Tho Newspaper - Translated by Ngoc Diep