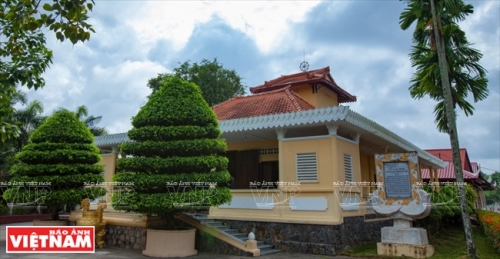 Long Quang Temple was built in 1824 the dynasty of Minh Mang King in Long Hoa Ward, Binh Thuy District, Can Tho City.
Long Quang pagoda was built around 1824, the reign of King Minh Mang. Initially, the pagoda was only a small temple, throughout many dynasties; the temple was rebuilt and renovated to become spacious as today. The pagoda was recognized by the government as a National Cultural Relic in 1993.
The set of 100-year-old Eighteen Arhats' statues, placed on both sides of the main hall, are painted by gold lacquer.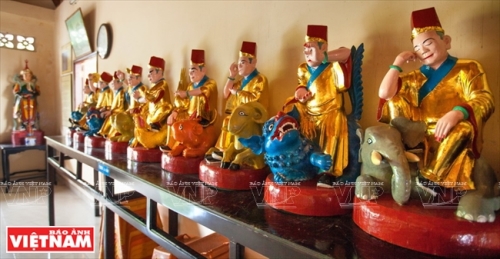 Each statue depicts an Arhat sitting on a beast with different postures.
There are 42 statues in the main hall of the pagoda which are set up around the four walls. Among them, the 100-year-old Arhats' statues painted by gold lacquer, become prominent on both sides of the main hall.
The carpenters used Pyinkado wood to carve the set of Arhats' statues. This is a good, durable, anti-termite wood which is resistant to the rain as well as the sunlight and keeps the paint long-lasting. All the statues are made of monolithic Pyinkado wood, not piecemeal pieces. Each statue is 80cm high but it is so heavy that needs two or three people to carry.
Each statue depicts a La Han sitting on a beast with different postures. One is wistful with a distant look, one with fierce face, others feature with amazingly happy or sleepy look…. 18 La Han Arhats' statues appear to be lively with many moments of life on earth.
On each statue, viewers can see its particular expression. To do that, the ancient artisans have to be very meticulous and conscientious with highly sophisticated carvings. The smallest details such as eyes, fingers or angles of statues; clothing ... are meticulously carved. Each statue is like an art of wooded sculpture so as to demonstrate the talents of the ancient sculptors.
According to the Venerable Thich Binh Tam, the abbot of Long Quang Pagoda and some collected documents that the Venerable Tu Quang (his Dharma name is Ngo Cam, the abbot of pagoda in 1889) had sculptors carved the set of Arhats' statues roughly from 1920 to 1922. The statues were made by sculptors in Can Tho. It could be said that this was a set of unique Arhats' wooden statues preserved by Long Quang pagoda.
Le Thi Be Bay, deputy head of the Binh Thuy Culture and Information Department, said: "The statues at Long Quang Temple contain the cultural characteristics and way of life in which the artisans described. Long Quang Pagoda is not only a religious place for Buddhists but also a spiritual tourist site of Can Tho City".
Translated by Hoang Dat