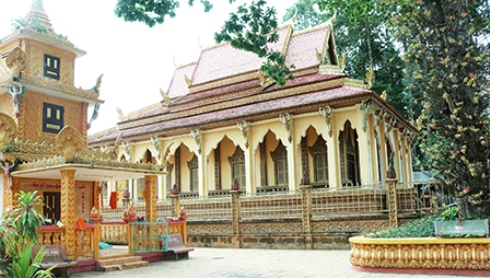 A corner of Pôthi Somrôn Pagoda with shorea robusta tree .Photo: KIỀU MAI
* Offering New Tourism Products
Ancient Pôthi Somrôn Pagoda (Area 4, Chau Van Liem Ward, O Mon District) along O Mon River looks peaceful. This 280-year-old pagoda (built in 1735) is considered as one of the most ancient Khmer pagodas in Can Tho City.
Pôthi Somrôn Pagoda has the typical features of traditional Khmer architecture. The sanctum is an outstanding building with a three-layer roof (one overlapping another). Along the roofs is a fringe of a dragon whose tail points to the sky. All the pillars, fences and walls are carved with fine patterns. Next to the sanctum is the ass temple (i.e. the ass of the monks and local people are stored in here.) The temple was built from special construction compound (ô dước), laterite, hallow bricks of the 18th century. The beauty of the pagoda is highlighted by the shorea robusta tree (The tree of carefree) in the corner of the pagoda. Planted in 1969, the tree is in blossom spreading its rich fragrance all year round. Many antiques have been kept in the pagoda such as the wooden wings from 1856 carved the simulation of the stories about the Buddha, Slấc-rích prayer books (written on buông leaves), or 200-year-old wooden statues
With such unique features, Pôthi Somrôn Pagoda is planned to become a destination in the tour to explore Can Tho City. According to Mr. Ho Van Hau, vice chairman of O Mon People's Committee, "O Mon District has planned to make Pôthi Somrôn Pagoda a culture and tourism site. Here, typical cultural features of Khmer will be presented again here."
Besides the showroom of its antiques, the pagoda has a pentatonic orchestra and a public performance team; a space to introduce and perform typical traditional trades and cuisine of the Khmer to visitors.
Superior Buddhist monk Dao Nhu, head of Pôthi Somrôn Pagoda, says, "Some rooms are going to be renovated into the place to display antiques. We need the support from the city in training human resource that will serve tourism in here, especially members for the pentatonic orchestra." Tourism products at the pagoda are complete in April, 2016. In addition, there will be more space for other Khmer festivals and performances such as Chôl Chnăm Thmây, Ok-Om-Bok, Sene Đôn-ta…
Mr. Le Minh Son, vice director of Can Tho Department of Culture, Sports and Tourism, states, "Pôthi Somrôn Pagoda is a link to other tourism products in O Mon District such as Thoi An Temple, Ba Rich confectionery village, Thoi Long bamboo fish trap village, Bay Tien eco-tourism, which all creates a new tour." At present, Can Tho tourism is focusing on river tours through various districts, among which is a new one: Ninh Kieu-Binh Thuy-O Mon-Thot Not. In addition to free traditional music performance on Ninh Kieu Quay on weekly basis, the city is going to set up another one at Tran Phu night market. The performance is of various kinds including Tai Tu music, traditional music, dances….
* Establishing Safe and Friendly Tourism
The city is upgrading its current tour sites to typical tourism destinations. Can Tho Association of Tourism has proposed basic criteria for such typical ones such as area, services, human resource, environment, number of visitors…Those are chosen will be investigated and assessed. According to Mr. Le Minh Sown, "Establishing typical tourism sites helps develop the tourism of the city, raise people's awareness of green, friendly and professional tourism environment. Tourism sites typical for the whole region will be proposed to the Mekong River Delta Association of Tourism."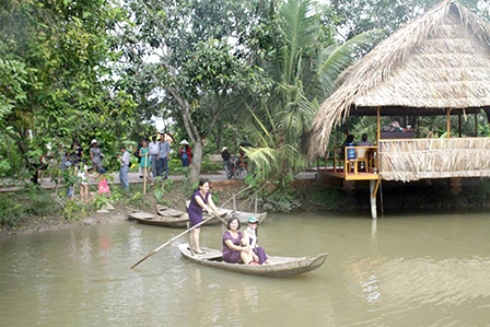 Boat rowing at Lung Cot Cau Tourism Site. Photo: Lung Cot Cau Tourism Site
Lung Cot Cau Tourism (Nhon Thanh Village, Nhon Nghia Ward, Phong Dien District) is outstanding among the sites under investigation and assessment for regional tourism one. Inaugurated in April 2015, Lung Cot Cau Tourism has become an attractive place with the area of 7 hectares. Five hectares of this is orchards of durian, rambutan, mangostene, Burmese fruit… It also has entertaining activities like rowing, fishing, listening to Tai tu music…Coming here, you can learn about the relic called Bưng Đá Nổi- Lung Cột Cầu thanks to interesting stories. According to the local elderly, this place used to be a wild swamp full of giant wooden stakes found at the depth of 2-3 meters under the biological alluvial layer. The locals thought that they were posts of the bridge, and then named the land "Lung Cột Cầu (swamp of bridge posts). They found a lot of green rectangular quadrate rocks, raising above the water surface, so they called Bưng Đá Nổi (pond of raising rocks). Later on, while digging, planting, fishing… in these natural ponds and rivers, people came across pieces of broken china teapots, bowls, statues… which belonged to Oc Eo Culture.
Mr. Pham Hoang Viet, director of Lung Cot Cau Toursim, states, "We are going to build an Óc Eo Culture Showroom, organize artistic performances and add more services…" This site usually receives about 300-400 visitors at weekends. Mr. Vo Thanh Giup, director of Phong Dien Center for Trade and Tourism Promotion, remarks, "This site is chosen to host Phong Dien Tourism Day on September 25-26th. A lot of interesting activities are planned to serve visitors'needs better."
Not only have these sites improved the quality of their tourism products, they have also created safe and friendly tourism environment. Can Tho Department of Culture, Sports and Tourism has the public order and security at Ninh Kieu Wharf investigated and reinforced. There will be more measures to reduce the number of beggars or demanding sellers. Although the situation is getting better and safer, the Department together with other related authorities has developed the regulation on managing the local means of transport on water in Can Tho City. This is a legal document to deal with those who violate the rules. Also, the inspectors of the department has organized 39 investigations into 83 travel agents and accommodation. There have been 43 warnings, 14 fines for those who have not followed the regulations for environmental hygiene or rank identification. There is going to be more investigation into tour sites so as to increase management in tourism according to Directive 14 of the Prime Minister on increasing the effectiveness of state management, overcoming the difficulties and then developing tourism.
Tourism in Can Tho City has gradually become in various aspects and developed appropriately in the orientation to be a safe, friendly and high tourism destination..
Source: Can Tho Newspaper - Translated by Ngoc Diep