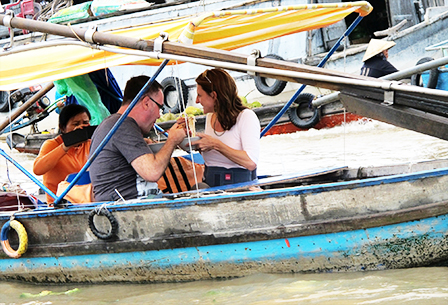 International visitors enjoying local specialties at Cai Rang Floating Market.
* The beauty of the culture in the Mekong River region
Cai Rang Floating Market was formed from the early years of the twentieth century. The boats carrying household goods, ceramics from Bien Hoa, Sai Gon, Lai Thieu; water coconut leaves, mangrove charcoal, earth stoves from Ca Mau, Rach Gia …. gathered here and created a hustle and bustle market on the river.
Over time, the demand for commodity exchange increased and Cai Rang Floating Market attracted more traders selling vegetables and fruit, and then gradually became a produce wholesale market in the Mekong Delta. Today, more services like catering, furniture repair, electric welding, petrol selling… appear in this market ... Cai Rang Floating Market is a destination not to be missed by travelers to Can Tho City and the Mekong Delta. All lively and bustling activities of the market make it a mini city on a river as well as a special spot on the tourist map.
When newly formed, Cai Rang Floating Market was at the junction of four rivers: Can Tho, Dau Sau, Cai Son and Cai Rang Be; and adjacent to Cai Rang Market on land. Over time, the market moved to the current location on Can Tho River - the strategic waterway of Song Hau- Xa No Canal – which is more spacious and thus makes traffic on water safer than before.
Market is open up from 5-6 a.m. and ends around 9 a.m. About 250 boats and ships gathering here for trading produces and goods makes up a floating market of more than 1 km. Going to this floating market, visitors must travel by boats making their ways among the anchoring boats. The traders here have an extraordinary way to advertise what they are selling: "what is hung is for sale". Every boat has a long upright pole at its bow on which samples of the goods for sale are hung. But some do not follow this rule. Tour guides sometimes ask visitors puzzling questions such as "what is hung but not for sale?" (traders' clothes are hung for drying) or "what is not hung, but for sale?" (food service) or "hanging leaves means selling boats" (The boat owners wishing to sell the boats will hang coconut leaves or similar leaves on the pole). Such unique features make this market (also other regional floating markets) a tourism attraction to visitors from everywhere, especially international ones.
Rough Guide (UK) has elected Cai Rang Floating Market one of the 10 most important markets in the world, and described it as a place of fancy boats full of "tropical colors." Youramazingplaces site also provides a list of 6 most beautiful floating markets in Asia, which refers to the floating markets of the Mekong Delta. Cai Rang Floating Market is a good example.
* Searching ways for the market development
Currently, Cai Rang Floating Market welcome more than 450 visitors a day, not to mention tenants ships, small boats from Cai Rang Market, Ninh Kieu Quay, Dau Sau Canal, Cai Son Bridge …. Although it is an attractive destination, its current situation has become a big concern to many people. In 2005, Cai Rang Floating Market gathered about 550 boats for trading goods and produces, but now, the number of boats has dropped by more than half, to about 250 ones. A dwindling market, traders have left for living ashore.
The existence of Cai Rang Floating Market serves as a part of history and culture of Can Tho City. So far, the local related departments and agencies have not invested appropriately in this market for its sustainable development. They have just made arrangements for safe waterway transport. In this context, Mr. Le Hung Dung, chairman of Can Tho City People's Committee had a meeting with Cai Rang District and issued the announcement No.193 / TB-VPUB dated June 13th 2014, stating "to authorize Cai Rang District People's Committee to develop a specific project for managing, conserving and exploiting Cai Rang Floating Market."
Basing on this, Cai Rang District People's Committee has developed the project "Improving and upgrading Cai Rang Floating Market in the period of 2014-2016". The project sets out a number of issues such as setting up a system of buoys for waterways traffic lanes, reorganizing the fixed wharfs, constructing fixed loading stations along the riverbank, transit spots, floating restaurants, public toilets … with a total estimated cost of around 26 billion VND. However, the project has provided practical solutions to promote the floating market; many parts of the project are still too general. Cai Rang District has not yet clearly defined the role of Cai Rang Floating Market.
In fact, there is an overlap between economic and cultural aspects in managing the market. However, Cai Rang Floating Market (Le Binh Ward, Cai Rang District) is classified as "cultural market" according to Decision No. 58/2006 / QD-PPC, dated June 13th 2006 on the master plan on developing a system of markets, supermarkets, commercial centers until 2015, vision towards 2020. According to Decision No. 67/2006 / QD-PPC, dated August 17th 2006, on the master plan on Can Tho tourism development from 2010 to 2020, Can Tho Floating Market (Phong Dien) is identified as a tourist site to be exploited and conserved for culture-oriented tourism.
Ms. Trieu Tu Nga, Head of Tourism Division, Department of Culture, Sports and Tourism in Can Tho City, raises her concern, "we should look for ways to make this market to become not only a regular market for business activities but also a place for providing professional tourism services so that local people can benefit from it. If this done, the activities on river can be sustainable and last long." Accordingly, it is necessary to make this a safe and civilized market with almost all services available on the river. Mr. Nguyen Minh Toai, Managing Director of Can Tho City Department of Industry and Commerce, suggests, "To help local people stay with the market, we should have specific policies to support them appropriately, such as creating good conditions for them to have free health care, access low interest loan or for their children to go to school."
Mr. Le Hung Dung, chairman of Can Tho City People's Committee, emphasizes, "Embellishment and preservation means keeping the unchanged nature of the floating market, neither intervening nor rearranging. There is absolutely no tax for small businesses earning their living at this floating market. In addition, they should be provided with educational and medical assistance." At the same time, Mr. Le Hung Dung also directs Cai Rang District People's Committee to consult traders of the floating market traders regularly so as to keep abreast of their demands or requirements, then set up more realistic and efficient project.
The sustainable development of Cai Rang Floating Market is a matter of urgency and the primary concern of many sectors and agencies at all levels of Can Tho City. Although it seems late, the recent actions by leaders at all levels, especially Cai Rang Floating Market Project, show the effort made by the local authority to preserve the cultural identity of the local floating market. Hopefully, Cai Rang Floating Market will become busier with traditional business activities as well as tourism services in a sustainable way in the near future.
Source: Can Tho Newspaper, Translated by Truong Thi Ngoc Diep