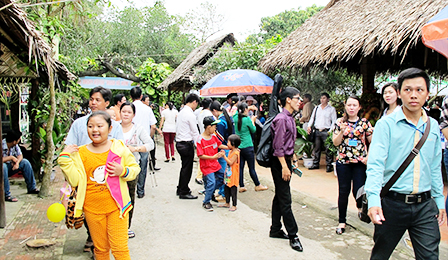 Lots of visitors attending activities of World Tourism Day.
Community based tourism potential
About 16 kilomters away from the center of Can Tho City, Phong Dien welcomes visitors with lush orchards full of fruits. The alluvium from Xa No Canal helps develop the green gardens here. Currently, Phong Dien has more than 6,000 hectares of orchards, with many delicious fruits such as Ha Chau Strawberries, Lo Ren Star Apples, longans, durian with yellow pulp and small seeds, sweet oranges, mangos ... Xa No Canal is divided into many small ditches like Muong Khai, Muong Dieu, Rach Sung…. Visible to visitors' eyes is the peaceful countryside with winding footpaths and the houses hidden among the riverside green orchards. These advantages help Phong Dien form eco-tourism, community based tourism (homestay - living at local people's families to learn about their culture and lifestyle).
At the present, Phong Dien has 18 tourist sites, half of which are areas of ecotourism, homestay: Hoang Anh orchards (My Khanh Commune), Vu Binh (Nhon Nghia Commune), My Thuan (My Khanh Commune), Hai Khanh (Tan Thoi Commune), Vam Xang ... The house of Mr.Lam The Cuong, commonly known as Muoi Cuong (My Ai Village, My Khanh Commune), is a favorite destination for many tourists. Here, visitors enjoy their experience as farmers participating in the daily activities of the owner, especially cocoa producing. His cocoa farm is of 12 hectares which was founded more than 50 years ago. Here, the homeowners will guide visitors each step from processing cocoa pods to making cocoa powder, chocolate, and typical wine. The intimate life of his family has attracted lots of international visitors to come back many times
If Phong Dien cuisine is of their interest, you can visit Ut Dzach's eco-garden and fine rice noodles manufacturer (Nhon Binh Hamlet, Nhon Ai Village). Here, they are guided to make homemade fine rice noodles as well as other traditional cakes. This is a long-standing manufacturer famous for fine rice noodles in Phong Dien. Homeowner Ut Dzach is rustic and friendly. She considers visitors as family members. They can walk leisurely enjoying the fresh air in the gardens around the house, picking fruit from trees to try or they can lie in the hammocks enjoying the peaceful moments in the riverside country. International visitors prefer riding bikes along the roads winding in the green orchards by the canals. They might stop by for a chat with the hospitable villagers.
The land and the people here are generous and friendly. Home to Tai tu music and sports, Phong Dien has become an ideal destination for those who love to learn about the culture and lifestyle of the West South.
Towards sustainable development
In the first 9 months of the year, Can Tho tourism industry welcomes more than 1 million visitors, generated over 847 billion VND revenue. In particular, Phong Dien received over 431,000 visitors (including 45,000 international ones) and generated the revenue of 42.4 billion VND. Ms. Kim Loan – a visitor from Ha Noi, said: "This is my first time to Phong Dien, Can Tho. I feel is quite interesting because there are a great variety of fresh fruit. Unfortunately, I do not have much time to stay here longer to learn more about the life and culture here. I will go back whenever I can. "
When compared with other districts in the city, Phong Dien has formed its own orientation to community based tourism. Can Tho People's Committee has also planned to make it an eco-urban area with eco-tourism resort typical of the Mekong Delta (from 2014 to 2025). Therefore, Phong Dien has identified its tourism development associated with responsibility and sustainability. Phong Dien is one of three provinces (Kien Giang, An Giang) in the Mekong Delta supported by EU projects (capacity development project responsible tourism and social environment by European Union funding) support the development of responsible tourism. EU project funded equipment for Writers of America Khanh, many training organizations to raise awareness and ability to practice responsible tourism for business households in local tourism.
At the end of last September, Phong Dien organizing activities in response to World Tourism Day (27-9) with the theme: "Tourism and Community Development" attract thousands of tourists to visit. Many activities took place as showcasing delicious fruits, delicious Phong Dien, performing high speed martial rate, Vovinam, paddle boat races, traditional games, introduced the author, Don ca work amateur stage name origin of Phong Dien. This is the third year, Phong Dien and organizing activities to gradually elevate become an annual tourist events local in the future. Ms. Truong Kim piercings, Vice Chairman Phong Dien district, said: "Although only a first step, but also many local difficulties are actively premise and foundation for tourism activities effective and sustainable , but also bring economic benefits to the people but still maintain good cultural values​​, history ".
Source: Can Tho Newspapers - Translated by Truong Thi Ngoc Diep