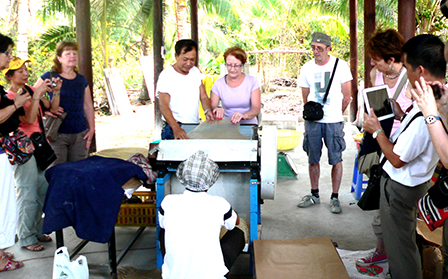 International tourists cutting Hu tieu (rice noodle) at 6 Hoai Hu Tieu Pizza.
"My mom wishes me to be married to a rural man so as to have an opportunity to enjoy boiled squash flowers and melon soup". It was a story of the past where a mother's desire was to have her daughter be married by a rural man so as to live a leisurely life there. In the present, countryside is a dream destination for lots of tourists and urban residents. What helps people reduce a lot of stress after long hard working time is the fresh air and wonderful rural specialties. It is why more and more visitors have chosen rural tourism in Can Tho City.
The owner of Giao Duong Tourist Site in Phong Dien was the first to initiate rural tourism. He has implemented this type of tourism for more than 20 years and received millions of domestic and international visitors. He says that rural tourism is more attractive than urban one. Visitors to his gardens are from everywhere in the country and in the world such as Ho Chi Minh City, Ha Noi, Hue, Australia, the United States, Germany, England, Canada… They have written in souvenir books about their memories and appreciation and love to the countryside. The area of this tourist site is about 3 hectares full of various fruit trees such as mango, star apple, Ha Chau baccaurea, mandarin, mangosteen… Among the orchards are ponds full of catfish, gourami, …for tourists to enjoy fishing and their "success".

My Khanh Tourism Village (My Khanh Commune, Phong Dien District) is the biggest tourist site of Can Tho City and attracts the most visitors in the Mekong Delta. It has been chosen "Typical Tourist Site of the Mekong Delta" by the Mekong Delta Tourism Association. This resort is run by My Khanh Ecotourism Ltd. This village has offered dozens of services. Tourists come here can walk leisurely among lush orchards or participate in recreational games such as fishing, monkey circus, dog racing, pig racing, sailing, fishing crocodile, fish catching ... and enjoy the typical rural dishes.
Coming to My Khanh Tourism Village, visitors can discover and learn about cultural lives of the Vietnamese southerners such as visiting the ancient Southern House, enjoying Tai Tu music programs, playing roles of farmers or landowners, fishing in natural ponds, visiting cultural handicraft villages, fruit gardens, enjoying on-site services such as taking a ride on a horse carriage or electric taxi, rowing boats, horseback riding, ... Tourists can stay in My Khanh bungalows among the large green orchards.
In addition to Giao Duong Tourist Site (Phong Dien) and My Khanh Tourism Village, Can Tho has more than a dozen of rural tourism destinations in the districts of Cai Rang, Phong Dien, Binh Thuy, O Mon and Thot Not ... However, most are located in Phong Dien District. Currently, many farmers and gardeners in Phong Dien offer experience tours such as "6 Hoai Hu Tieu Pizza", Muoi Cuong Cocoa Garden, Ut Dzach Fine Rice Noodles…. In a typical tour, we are following a group of tourists from Ho Chi Minh City to Cai Rang Floating Market, "6 Hoai Hu Tieu Pizza " , My Khanh Tourism Village ... who are enjoying themselves very much with the natural scenery and rural people in Can Tho City.
Coming to "6 Hoai Hu Tieu Pizza " visitors not only enjoy the fresh air of the gardens in the waterway region but also experience all stages of making rice noodles as well as enjoy what they have made. A female tourist from Ho Chi Minh City comments, "Visiting here is interesting. Never have I tried such delicious rice noodles." Foreign tourists are excited with what local people have been doing to produce rice noodles. Spreading flour, drying rice cake, cutting rice noodles… are very strange to them.
According to tour operators, Can Tho rural tourism destination are popular among tourists to Can Tho City. Mr. Nguyen Tien Dung, Director of Viet Nam Golf Tourism Joint - Stock Company (Ninh Kieu District, Can Tho City), specializing in organizing tours for tourists from the Central, the North of Vietnam and foreign visitors to the Mekong Delta, says, "visitors to Can Tho City wish to visit floating markets and gardens after a visit to urban areas, so we always add tours to gardens in the itinerary ... ".
Currently, many tour operators have put the tour to gardens in Can Tho in their itinerary. However, many travel agencies comment that most of these interesting places are along the small canals, difficult to access either by road or by water, which creates much negative impact on rural tourism in this city. If Can Tho City invests in expanding roads and dredging rivers for large means of transportation, more and more visitors will be attracted to Can Tho City.
Source: Can Tho Newspaper, Translated by Truong Thi Ngoc Diep