Traditional festival and Culture

Arousing the vitality of heritage in Can Tho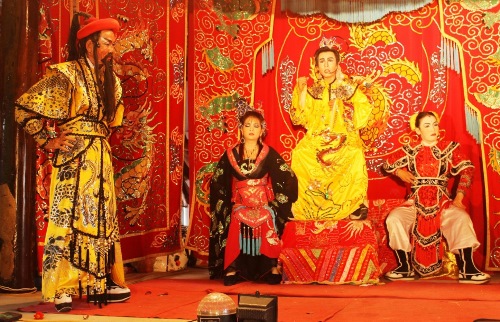 The People's Committee of Can Tho city issued the Decision approving the project on Preserving and Promoting the value of intangible cultural heritage of Can Tho city to 2020. The two main points of the project are preserving and promoting the value of intangible cultural heritage to have practical effect which is suitable with the socio- economic development requirement of the city and have a connection with the Mekong Delta and the whole country. This is also a foundation for preserving and promoting the value of intangible cultural heritage of Can Tho city to 2020.
Nhon Thanh mold recognized national treasure

Eighteen Arhats (Thap bat La Han) in Long Quang pagoda

Can Tho: developing a unique tourism product

Diversifying and Upgrading

Can Tho Tourism: Appeals from Featured Products and Events

Can Tho Tourism Oriented as Countryside Ecotourism

Cai Rang Floating Market Festival: A Highlight in Can Tho Tourism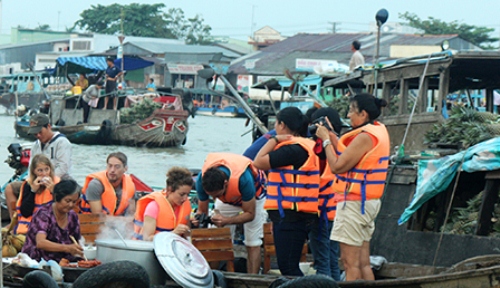 Cai Rang Floating Market Festival is the first time to be held on July 8-9. It is planned to be held every year in order to preserve the featured cultural identity of the people in the South West waterways region. Also, this annual festival can help provide a tourism highlight so as to attract more visitors to Can Tho City.
Southern Traditional Cake Festival takes place from 15 to 19-04-2016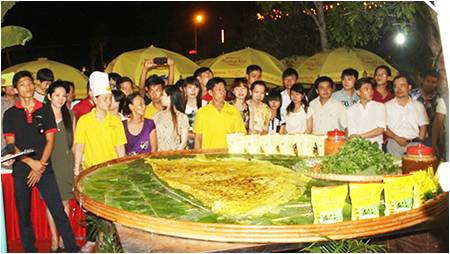 According to the plan of the People's Committee of Can Tho City, The Fifth Southern Traditional Cake Festival 2016, hold by the Centre for Investigation – Trade Promotion and the Can Tho Exhibition Fair, will take place from October 15 to 19-04, (from 9 to 13-03 of lunar calendar), at the Cai Khe roundabout, Ninh Kieu district.
Some highlights of the culinary culture of Can Tho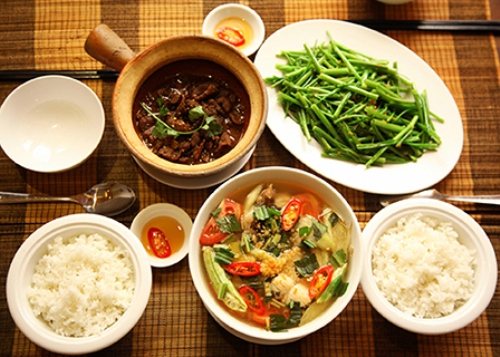 The ecological characteristics of Can Tho are quite similar to other provinces of the Mekong Delta so basically food and dishes in Can Tho are also similar to other regions' food. Cooked ordinary rice is the major food and dishes are fish, meat ... processed by grilling, frying, steaming, stirring, braising... In addition, eels, frogs, turtles, snakes, birds ... are plenty and easy to be found that contribute to enrich the meals of Can Tho people. It can be said that, a meal of Can Tho people consists of rice + vegetables + fish + meat. Depending on customs of each local and the situation of each family that the materials could be varied. However, previously, Can Tho people, especially in rural areas used to have the habit of prioritizing the meal of rice + vegetable + fish. Meat was secondary because this was luxurious item that was only served in holidays, but rivers were full of fish, just needed to catch for their meal.
Waterways and Cultural – Historical Relics Tourism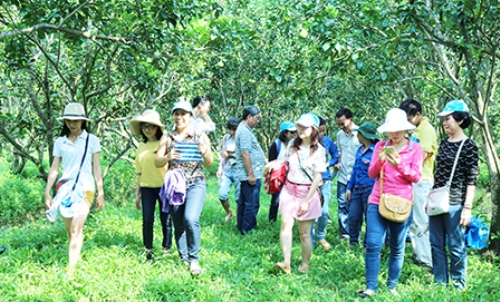 Binh Thuy is famous not only for its various cultural-historical relics but also for the network of interwoven rivers and orchards laden with fruits, which makes up the unique path for exciting discoveries. To fully enjoy all this beauty, you should have a try with a waterways tour including visits to the historical-cultural relics.
"Tan Loc Orchard Festival of 2015" with many new activities

21 Reasons To Fall In Love With Vietnam

Developing Culture-oriented Tourism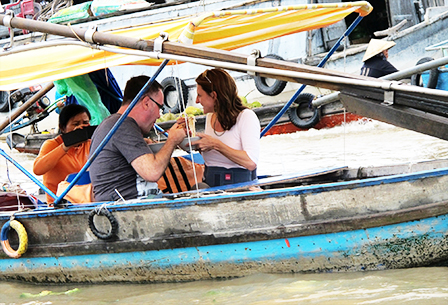 Cai Rang Floating Market, Can Tho City has existed for over 100 years with the unique culture typical for the inhabitants of the Mekong River region. Today, the market is no longer prosperous as ever, facing risk of shrinking due to many factors. Local leaders and tourism agencies are searching ways for the sustainable development of this market.
Rural Tourism – Strengths of Can Tho Tourism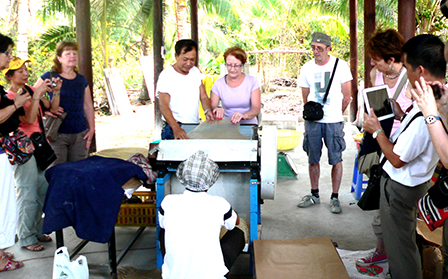 Currently, Can Tho City has 14 tourist destinations with large gardens, attracting more than half a million visitors annually, accounting for nearly 50% of visitors to Can Tho. In the future, Can Tho rural tourism will be invested to meet the needs of most tourists, especially resorts "along the Hau River system of islets" ...
Phong Dien District aiming to develop community-based tourism, responsible tourism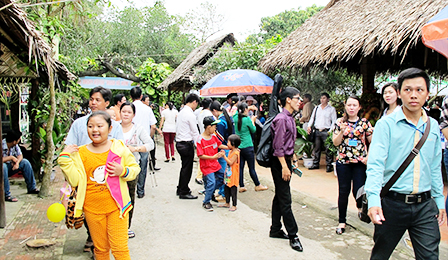 Phong Dien is the "green belt" of Can Tho City with lush orchards, fresh air, a complex system of winding rivers, which reminds you of an affluent countryside with gentle, simple and hospitable people. This advantage helps Phong Dien to develop its "green tourism", community based tourism which has attracted visitors from many other places.
Southern Folk Cake Festival in Can Tho to Take Place on Occasion of King Hung's Death Anniversary

Mini stage for traditional theatres in Can Tho

Vietnam's traditional festivals

Mid- Autumn Festival For a long time, Vietnam and some other Asian countries who follow the rite of worshipping the Moon Genie, welcome the Mid- Autumn Festival on the 15th day of the 8th lunar month. This is the time when the moon is full, the farm work is at rest, and the weather is cool and fresh. Apart from the Lunar New Year, the Mid- Autumn Festival is the most impressive event for the Vietnamese, particularly the children. There is no other event in the year other than this festival t...
Tet: Vietnamese New Year

January and February are the most interesting festival months in the year in Vietnam. Plenty of the festivals and special events would be organized throughout Vietnam. LUNAR NEW YEAR ( TET ) Vietnamese and Chinese Lunar New Year, is the most important Festival of Vietnamese people. This scared Festival sometime between late January or early February (depend on Lunar Calendar ) and Tet has become so familiar to the Vietnamese that when Spring arrives, the Vietnamese, wherever they may be, are al...